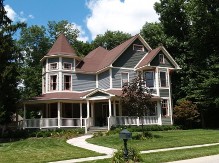 The S&P Case-Shiller Index for April shows that while home prices continue to grow, they are doing so at a slower pace as compared to April 2013. The Case-Shiller 20 city index reports that home prices expanded at a year-over-year annual rate of 10.80 percent as compared to 12.40 percent in April 2013.
Month-to-month data showed that home prices rose for the second consecutive month. The seasonally- adjusted month-to-month growth rate for the 20 city home price index was 0.20 percent against March's month-to-month home price growth rate of 1.20 percent.
Slower Home Price Growth: A Silver Lining?
According to the Case-Shiller 20-City Home Price Index 19 of 20 cities posted slower growth rates for home prices in April. Analysts say that this may not be all bad news as rapidly rising home prices, a shortage of available homes and stringent mortgage credit requirements have caused would-be buyers to be sidelined. Inventories of available homes are increasing which should help more buyers enter the market.
David M. Blitzer, chair of the S & P Dow Jones Indices Committee said that last year, some sun belt cities posted annual home price growth rates near 30 percent, but this year, the maximum annual home price growth rates are lower than 20 percent for all cities on a seasonally adjusted annual basis.
Month-to-month price growth was described as seasonally strong. Five cities posted month-to-month price gains of two percent or more.
Seven of the 20 cities included in the 20-city index posted slower rates of home price growth in April than for March: Cleveland, Ohio, Las Vegas, Nevada, Los Angeles California, Miami, Florida, Phoenix, Arizona and San Diego, California were included in this group. Boston, Massachusetts posted a 2.70 percent gain in home prices between March and April; this was the city's largest month-to-month gain since the inception of the 20-City Index.
Lower mortgage rates, more homes on the market, and a recent statement by the Federal Reserve that it did not expect to raise its target federal funds rate until mid-2015 are seen as factors that are helping to stabilize housing markets.
FHFA Reports Home Price Gain Rate Unchanged in April
The Federal Housing Finance Agency (FHFA) that oversees Fannie Mae and Freddie Mac reported that home prices connected with mortgages owned or backed by Fannie Mae and Freddie Mac rose by 0.70 percent, which was the same pace in month-to-month home price growth as for March. Year-over-year, home prices rose by 5.90 percent.
On a seasonally-adjusted month-to-month basis, home prices ranged from -1.3 percent in the New England division to +0.60 percent in the East South Central division. Year-over-year, home prices in the nine census divisions increased at rates between 1.70 percent for the Mid-Atlantic division to 10.70 percent for the Pacific division.
The peak home-buying season during spring and summer months and labor market performance will likely be strong influences on home price growth in the coming months.